The liberal blogosphere exploded today over the new cover of The New Yorker. The cover was intended to be a satire of all the outrageous things that kooks believe about Barack Obama - that he is a flag burning Muslim mole and his wife is some sort of militant black nationalist: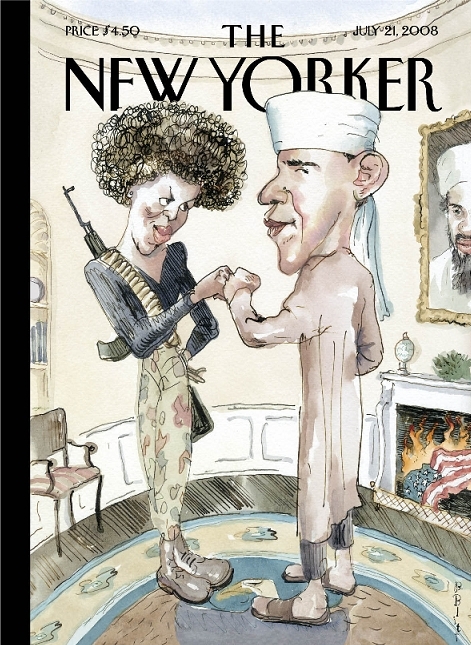 However, without any context, it does more to reinforce this kind of misinformation than challenge it. Americans, satire, and political campaigns mix about as well as oil, water and rocks, so I don't think many people are going to be laughing about this. The irony is that there is a 16 page article on Obama in this issue that is said to be largely positive. And yet I would guess the average person seeing this on a news stand will think that the New Yorker believes Obama is going to institute Sharia law once elected president. Such is the power of images over words. Sigh

As a side note, how dumb do you have to be to believe Obama will institute Sharia law as president? It first requires enough racism and prejudice to believe that a black person is unable to attend a public grade school in Indonesia for a year (that had Muslims in attendence) without being forever brainwashed into a radical sect of Islam. Then it requires a lack of even rudimentary knowledge of how our government works and what the constitution is and the powers that a president has. Finally, it requires you to believe that the American people would just stand idly by and let something like that happen.

Yes, I know, these are probably the same people who fervently hope for the return of a Christian theocracy. In fact, that's probably why they take these ridiculous smears so seriously. They might be hoping something like this happens, except in favor of their own version of religion.